Pricing
Free Plan
You can try Niggle It for free for as long as you like! Get 5 free Niggles and 10MB of space to store your documents. You get the same reminders about your expiring warranties and contracts as the paid plans do. Sign up now!
Paid Plans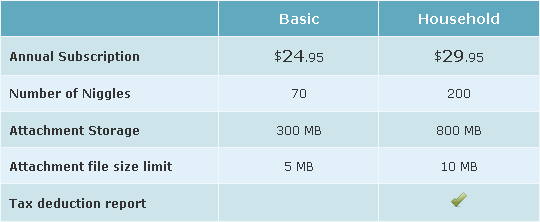 We also offer discounts if you register for more than 1 year.
Niggles
We call the items you register with Niggle It, Niggles. E.g. your new LCD TV you register with Niggle It is a Niggle. The 2 Year Mobile Phone Contract that was registered is a Niggle. Simple.
Attachments
Attachments are the files you upload to keep your stuff safe. Receipts, warranty cards, manuals, even photos of the items themselves. You can upload as many attachments per item as you like - you're only limited by the total amount of space on your plan.
Tax Deduction Report
At tax time, Niggle It will automatically send you a report listing all of the items that you're able to claim, potentially saving you hundreds of dollars.