Lost Receipt - Home Appliance
I was so annoyed when my dust-buster died and I couldn't find the receipt to make a warranty claim. I had to pay to buy a new one. Won't happen again though, now I Niggle all my receipts.
The Situation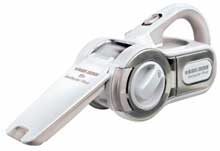 I purchased a Black and Decker Pivot Dust-buster for $165 at Harvey Norman. When it suddenly stopped working seven months later, I could not find the receipt.
I thought it would be OK because I bought the item on VISA Card but the transaction couldn't be located in the Harvey Norman system. Because I was still in the two year warranty period, if I could find the receipt they would immediately swap the faulty dust-buster for a brand new unit.
I turned the house upside down over the next few days and never found the receipt. Instead of getting a new unit at zero cost, without the receipt I had to purchase another new unit.
It won't happen again though! This time I Niggled the receipt so I'm confident I'll be able to access the 2 year manufacturer warranty.
The Additional Cost
- Cost of new unit without the receipt $165
- Cost of new unit with the receipt $ 0
- Total saving could have been $165
The Niggle It Solution
If a copy of the receipt and other documents was available on Niggle It I would have saved $165.
More success stories